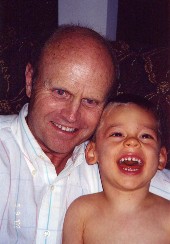 Why does God use the events of our lives that appear to be so devastating to be the very things that mold us into what He wants us to be and do?

The answer to this question will be answered one day, but not here on this earth. Though we don't know why He does things this way, we can be certain that He does indeed do it just this way.
On July 21, 1998, a baby boy was born in Atlanta, Georgia. Little did we know how this tiny, precious person would be used so powerfully by God to forever change our lives and make clear our purpose. That purpose has now become PURE Ministries (our ministry was originally named "Zachariah's Way"). Zachariah Kyle Emerson arrived as a big, beautiful boy with the face of an angel. Over the next 24 hours, Zach was diagnosed with hydrocephalus (excess fluid on the brain) and underwent surgery to have a shunt inserted when he was just three days old. Like so many families with a child with special needs, we brought him home with so little knowledge of or exposure to disability. We felt that our dreams and plans for Zach were slipping through our fingers as, over the next few months, Zach was diagnosed with significant visual impairment, a brain malformation, severe cerebral palsy, and a seizure disorder. In just four short years, he underwent countless surgeries, hospital stays, doctor visits, and therapy sessions. We often lived day to day, too tired and afraid to think about tomorrow.
Zachariah went to be with Jesus on February 5, 2003. However, over those four and a half years that God lent him to us, Zach turned our lives upside down. We were totally and completely changed in ways that happen only when God's blessing can be seen and experienced so obviously. As many families impacted by disabilities experience, we learned to see life in new and better ways. We discovered that we were blind in so many ways and that Zach taught us to see. Zach taught us that our definition of healthy , whether it be physical, mental, or emotional, does not define nor determine the quality, richness, or dignity of life. Zachariah's steady happiness, courage, and positive attitude were and remain an example to all of us. When we think of him, a smile immediately comes to our face as we remember the pure joy he brought to us and everyone he met. Because Zach's physical and medical condition required us to make changes in what we did and how we lived, we learned that we had to realign our dreams, plans, and daily life to care for Zach. The better "way" we chose to live life was defined by this sweet little person who, because of his limitations, valued supremely his relationships with those of us he came to know. In Zachariah's world, he wanted only to be physically close to us, touch our faces, give great smiles, and walk with our support. Zachariah knew the joy of just living each day and spent his short life creating relationships and reaching out to others. We consciously chose this new way of life not because he asked us to, but because he was worthy, and he taught us so much about the purpose of life itself. His never-say-die spirit touched everyone that had the privilege of working with, teaching, or knowing Zach.
How could a little boy who never said a word, took a step on his own, or do so many typical things impact so many people, and, in reality, point so many to his Heavenly Father? We will never be the same because God chose to bless our family with his presence. We miss him terribly but know with total assurance that Zach is with Jesus now. We marvel at the saving grace of God. We know the blessing of Zach was certainly unique for our family, but we also realize that God has and is constantly blessing other families with his angels with special needs. Because we have been changed by the blessing of Zach and have learned his ways, we commit this ministry to God's glory.
Zachariah's "way" did not die when the Lord took this special little boy to his eternal home. It remains even stronger today, lingering in all of the wonderful memories and lessons that he left with us. Our desire is to share the blessings and pure joy of individuals with special needs and their families with all who will listen and get involved.