PURE Gratitude Challenge
---
Posted on November 3, 2015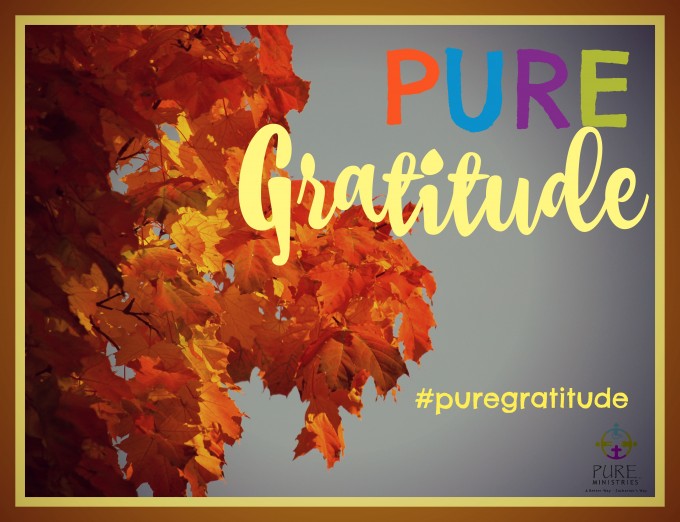 At PURE Ministries, we have the opportunity to partner with hundreds of local and foreign ministries dedicated to serving those we call PURE. Sometimes we meet them during "mountain top" experiences, like at a conference, when they are full of excitement and energy about their ministry. But often times, we also meet them discouraged, downcast and decidedly ready to give up because of the demands ministry can present. These times are real and cannot be denied, but in the words of Paul we "press on toward the goal." (Phil 3:14)
But one thing I do: Forgetting what is behind and straining toward what is ahead, I press on toward the goal to win the prize for which God has called me heavenward in Christ Jesus.

The Holy Bible: New International Version (Grand Rapids, MI: Zondervan, 1984), Php 3:13–14.
The team at PURE Ministries understands the struggles and hardships of ministry to the differently-abled. We encourage you not to give up, but to reach up to our ultimate equipper for ministry – Jesus Christ.
So what is the key to longevity in ministry? Especially a ministry as demanding and heart-rendering as ours? We believe that focus through gratitude is a driving force to spiritual health for ministry leaders. Not long after Paul exhorted the Philippians to press onward he gave them the key to remaining hopeful while doing so. His advice was this:
Finally, brothers, whatever is true, whatever is noble, whatever is right, whatever is pure, whatever is lovely, whatever is admirable—if anything is excellent or praiseworthy—think about such things.

The Holy Bible: New International Version (Grand Rapids, MI: Zondervan, 1984), Php 4:8.
We want to encourage you, during this time of year that can become frantic with activity to "think on" these things.
Has anything good happened in your ministry this year?
Can you share any victories with us?
Has your ministry team accomplished anything big – or small – that is praiseworthy? We bet they have!
Please take a moment to share these victories with us via social media with the hashtag #puregratitude. Post a quick thought or story to our Facebook page or mention us in a Twitter comment with #puregratitude, and lets encourage one another with these words.