A Caregiver's Advent Prayer
---
Posted on December 14, 2015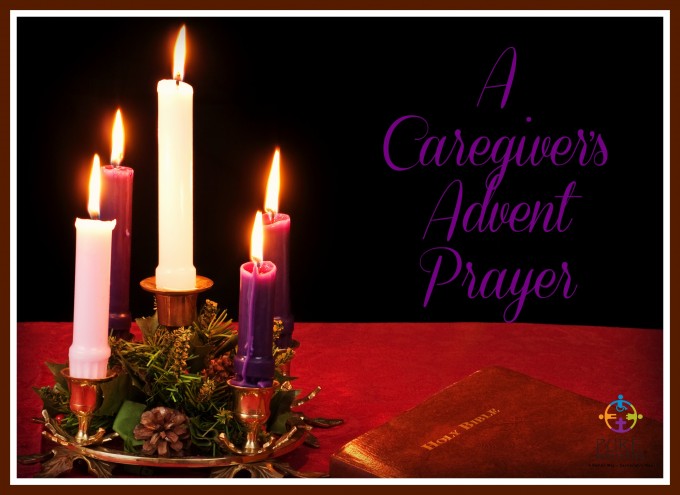 by Vangie Rodenbeck
Lord Jesus,
As we light a candle looking forward in hope of your coming, inspire in us the same hope held by the prophets of old. Allow us to see past the challenges of our children and loved ones, the marks of what the world calls our "disability," and instead envision a world where your justice restores us to fullness.
When we turn our thoughts toward Bethlehem,
remind us of the very real and earthly conditions in which you entered this world. It blesses us to remember that you entered this world small, vulnerable and without power. May this bring us comfort when we feel overlooked by physicians and specialists, and when only our deficits seem worthy of mention. In this world, those of us affected by disability will often be as small and vulnerable and powerless as you were that Bethlehem night.
It can be difficult to see past our hardships and into the joy of your coming Lord. When we light the candle reminding us of the joy the world would experience at the coming of it's long awaited Savior, help us find that joy Father. Be our help as we strive to keep joy in the face of financial strain and medical bills, and when therapy appointments and evaluations provide only disappointing results. Let us find joy in the tubes used to feed our children and in the wheelchairs we use to move them. Yes, Lord. Permit us to find joy this Advent, even in our weakness.
Lord we seek your peace in all these things. During our late nights, when our loved one resists sleep when we would cherish it…give us peace. When we see years often spent in career building, spent instead in caregiving…give us peace. When we grow lonely for companionship and understanding…give us peace. In our darkest hour, allow this peace to illuminate our lives and hearts.
This Christmas, as the Christ Candle is lit, we praise you Lord for the humble way you came to us. We take comfort from the your ministry to the poor, the desperate, the sick, the lonely, the tired and those the world saw as hopeless. In you Christ, we find our hope, our strength, our joy and our peace.
O Lord, may the God of hope fill us with all joy and peace as we trust in you, so that we may overflow with hope by the power of the Holy Spirit." (Romans 15:12-13)